From the Editor:

Message for the New Year 2019

Editor: Toru Nakagawa (Professor Emeritus, Osaka Gakuin University), Jan. 7, 2019

Posted on Jan. 10, 2019

Message (Toru Nakagawa, Jan. 7, 2019)
Greetings from Japan for a Happy New Year 2019!! Wish the year be peaceful in the World, and healthy, happy, and successful for you all.
(Sorry to be late in greeting you.)

It is a tradition in Japan to send post cards for celebrating a new year. In the Japanese page of this site I posted my New Year post card, which I sent to my friends whom I met before my TRIZ days (Note: To those I got acquainted in relation to TRIZ, I do not send post cards, because this Home Page is more useful). Here is the card in Japanese:
Please allow me to address the same message in English translation to you, because I am saying/writing almost the same thing (for months and years).

I keep working for the research and proliferation of 'Methodologies of Creative Problem Solving (TRIZ/CrePS)'. This Web site "TRIZ Home Page in Japan" celebrated the 20th Anniversary last November to my thanks to you all.

I have proposed a voluntary international project 'World TRIZ Sites Project (WTSP)' and am endeavoring to build Catalogs for introducing TRIZ-related Web sites in the world. After an year of initial preparation, I have just made up my mind to complete its first Edition in October 2019, to update it completely in every 2 years, and to run the operation for 10 years, in cooperation with many TRIZ colleagues.




Human Culture has chosen (or recognized) Liberty and Love as the two Principal Guiding Principles, but there exist intrinsic contradictions, inside each of them and between the two, which have not been resolved throughout the human history. It should be Ethics that motivates and coordinates both Liberty and Love; Ethics is the most basic Principal Guiding Principle based on the understanding that every person has the rights to pursue one's own happiness. Pursuing for the three goals together, i.e., to extend Liberty, to expand (or universalize) Love, and to deepen Ethics, is Good for individuals and for societies. Insisting and pursuing for 'Liberty alone / Love alone / Ethics alone' is NO Good. This is my understanding at the present stage.

I wish you all your health, happiness, and success.

January 1st, 2019 Toru Nakagawa

3-1-13 Eirakudai, Kashiwa, Chiba 277-0086, Japan
Phone: +81-4-7167-7403 Email: nakagawa@ogu.ac.jp
Web site: http://www.osaka-gu.ac.jp/php/nakagawa/TRIZ/eTRIZ/
---

Note:
It would be desirable to summarize my activities in the last year and my vision/plan for the new year. But I will just show links to some articles relevant to them:

On 'Methodologies for Creative Problem Solving': ==> Presentation at TRIZCON2016: (Jun. 23, 2016)

The 20th Anniversary of "TRIZ Home Page in Japan": ==> (Nov. 11, 2018)

WTSP Project for Building the Catalogs to introduce TRIZ-related sites in the world: ==> (Nov. 21, 2018, WTSP Catalog of Japan (May 23, 2018)

Principal Contradiction of Human Culture and Solution Directions : 'Liberty vs Love' and Ethics : ==>   (Dec. 13, 2018)

The photo of the glacier is the Diavolezza, near St. Moritz, Switzerland. We visited the wonderful resort from late July to early August. The hat is my wife Masako.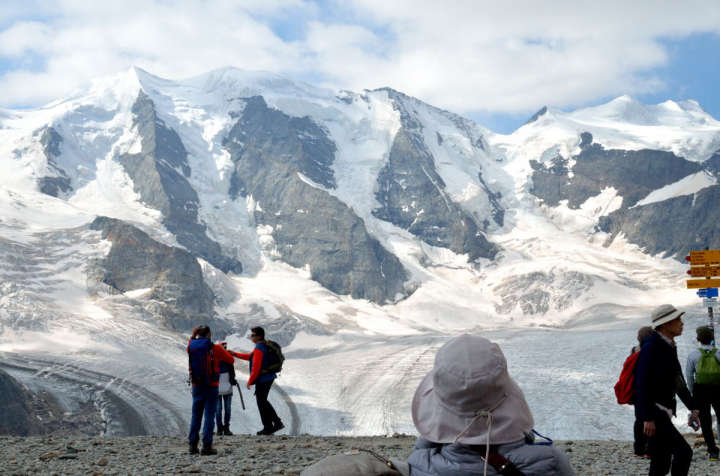 A pair of swallows came back to our home, in sequence to year 2017 ((Jul. 18, 2017)). They made a new nest on the top of a lamp. It looks very narrow, that's why they raised 3 babies, instead of typical 4, we are afraid.
A dragonfly is a big treat. Parents are busy for feeding the three. The one is closing its mouth for just swallowing a dragonfly. Parents demonstrated flying on the day before the youngsters' departure.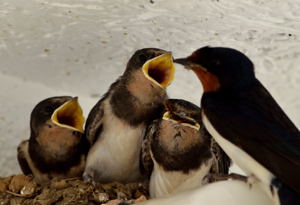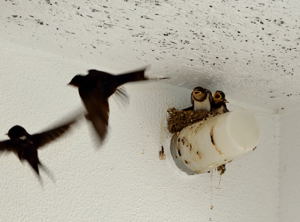 Adventure of the first youngster for Liberty: Flying out, but down onto the window frame. "Are you OK?" "Maybe ...". Then flew down on the car top. Further down on the ground, taking a rest seeing beautiful flowers. Finally flew up to the roof of a two-story house in the neighbor, shouting happily to the parents' warm welcome.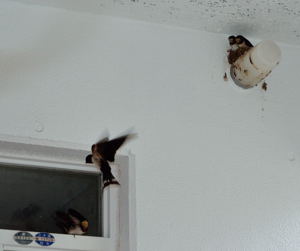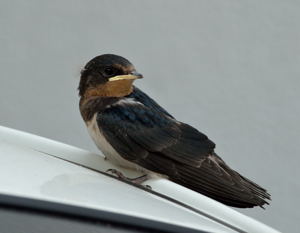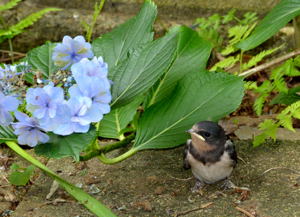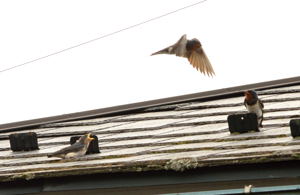 Last updated on Jan. 10, 2019. Access point: Editor: nakagawa@ogu.ac.jp