"Japan TRIZ CB" (Official Page):

Details of the Fifth TRIZ Symposium in Japan, 2009

Symposium Site Map, Latest Notes to Participants

Web Master: Toru Nakagawa (Osaka Gakuin Univ.)
Posted: Sept. 5, 2009
For going back to Japanese pages, press

buttons.
In this page, some detailed information of the Site is posted for the participants of the Symposium.

Symposium Site Map at NWEC (Sept. 5, 2009)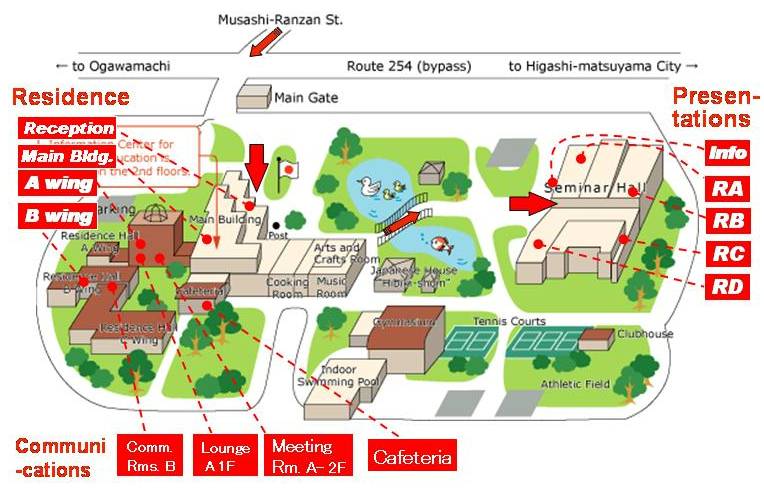 ---

Latest Notes to Participants (Sept. 5, 2009)

Sept. 5, 2009
Masatoshi Hotta, Symposium Secretariat,
Japan TRIZ Society, NPO

To Participants of the 5th TRIZ Symposium:

Thank you for participating in this 5th TRIZ Symposium.
Owing to your support, many people are participating in this event in spite of the severe economic conditions. We are happy to have made the Symposium ready to open soon without any trouble so far.

And now, here is some additional information to the participants of the symposium and some requests from us:

(1) Reception

The reception for the symposium

is located at the entry hall in front of the auditorium on the1st floor of the Seminar Hall. Please go directly to the entry hall in front of the auditorium.

However, those who are

arriving on the 9th

are requested to call the symposium secretariat at the front desk in the main building at 18:00 or later.

(2) Lodgment

Room keys

will be handed to you by the symposium secretariat after receiving them from NWEC in block.

Check-in

starts at 15:00.

The curfew is 22:00

. If you should be late for the curfew, please contact NWEC reception and have them open the back door for you. (NWEC Phone: 0493-62-6711

)

Amenities

such as bath towels or tooth brushes will not be provided. Prepare your amenities in advance or you can also buy them at the NWEC shop.

During this period,

many people

not participating the symposium will also lodge.

(3) Internet

Access to the internet

is available at the following places:

The symposium secretariat will set up an 8-port HUB in room 104 and other 2 rooms (to be determined) of Seminar Hall. You can connect to the internet if you

bring your LAN cable

.

(4) Miscellaneous

No dress code

is laid down. The attire is dress-down casual.

Audio, photographic or video recording of presentations is prohibited.

Please be punctual

in presentations, meals, etc.

The mealtime

at the cafeteria is as follows:

Breakfast: 7:30-8:30

Lunch: 11:30-13:30

Dinner: 18:00-20:00

Available time of symposium facilities

at the Seminar Hall is 9:00-21:00.
Last updated on Sept. 5, 2009 Access point: Editor: nakagawa@ogu.ac.jp